Layering signature name necklaces is a trendy way to add depth and dimension to your look. These necklaces are a popular choice for personalized jewelry, allowing you to express your individuality in a subtle and stylish way. In this guide, we'll show you how to layer your necklaces in a stylish and personalized way.
Choosing Your Signature Name Necklace
The first step in layering your signature name necklaces is to choose the right statement piece. A signature name necklace should be the focal point of your layered look, so it's important to choose a piece that reflects your personal style. Here are some tips for selecting the right necklace:
Choose the right length: Consider the length of your necklace carefully to ensure that it sits comfortably and flatters your neckline. A choker-style necklace can be a great option for layering, while longer necklaces can add a touch of elegance to your look.
Select the right material: Signature name necklaces are available in a range of materials, including gold, silver, and rose gold. Consider the other jewelry you'll be wearing and choose a material that complements your overall look.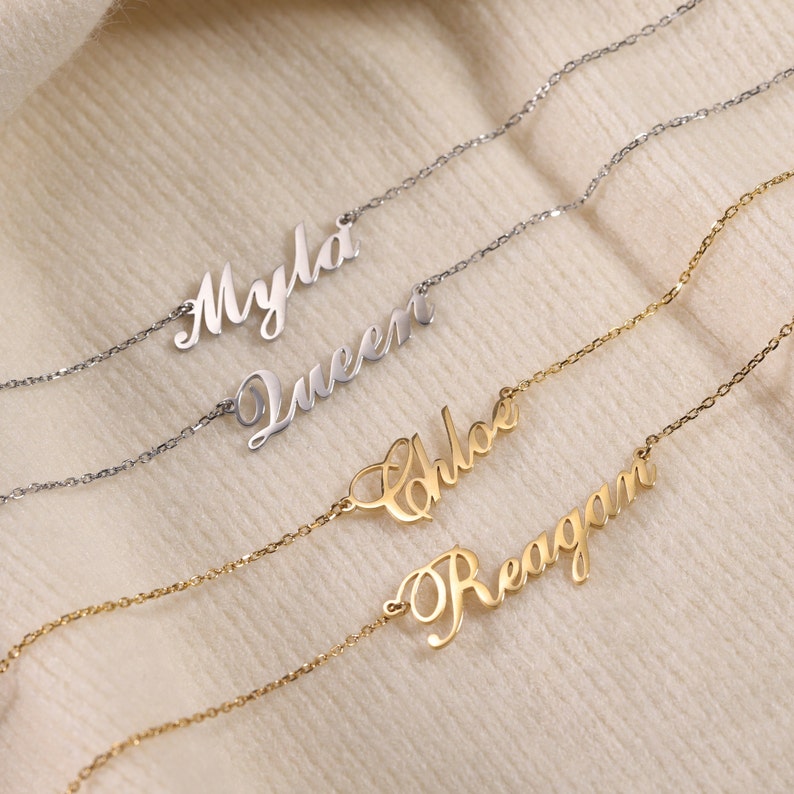 Building the Layered Look
Once you've chosen your signature name necklace, it's time to start building your layered look. Here are some ideas for layering your necklaces:
Add a choker: Start with a choker-style necklace that sits close to your neck. This will act as the base for your layered look.
Layer different textures: Combine different textures and materials to create a layered look that's interesting and unique. Consider adding a delicate chain or a pendant necklace to your signature name necklace to add depth and dimension to your look.
Play with different lengths: Experiment with different necklace lengths to create a layered look that's visually appealing. Layer a longer necklace with a shorter necklace, or combine necklaces of similar lengths to create a more uniform look.
Styling Tips
Once you've layered your signature name necklaces, it's important to style them appropriately. Here are some tips for styling your layered look:
Keep it simple: When layering necklaces, it's important to keep the rest of your jewelry simple. This will help to draw attention to your layered necklaces and create a cohesive look.
Balance the look: If you're wearing multiple necklaces, it's important to balance the look. For example, if you're wearing a chunky signature name necklace, pair it with a delicate chain necklace to create a more balanced look.
Consider the occasion: Think about the occasion you'll be wearing your layered necklaces to. If you're attending a formal event, consider a more minimalist layered look, while a more bohemian look may be appropriate for a casual day out.
Final Thought
Layering your signature name necklaces is a great way to add a touch of personalization to your look. By choosing the right statement piece and experimenting with different textures and lengths, you can create a layered look that's unique and stylish. Remember to keep the rest of your jewelry simple and balance the look to create a cohesive and visually appealing style. Have fun experimenting with different layered looks and expressing your individuality through personalized jewelry!